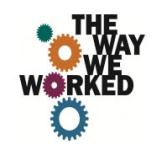 Local Exhibit
"Logging in Pocahontas County
19th Century thru Today"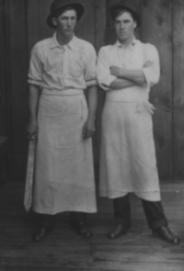 With their hands and minds hard at work and sweat on their brows, American workers perform a diverse array of jobs to power our society. Whether we work for professional satisfaction and personal growth or to ensure the well-being of ourselves and our families, work is a part of nearly every American's life. Office workers, factory workers, homemakers, truckers, soldiers and the millions more who keep the nation going through their work make great contributions not only to industry, but also to American culture.
The Way We Worked, adapted from an original exhibition developed by the National Archives, explores how work became such a central element in American culture by tracing the many changes that affected the workforce and work environments over the past 150 years.  The exhibition draws from the Archives' rich collections to tell this compelling story.
The exhibition focuses on why we work and the needs that our jobs fulfill. Our work takes place everywhere – on the land, on the streets of our communities, in offices and factories, in our homes, and even in space. An exploration of the tools and technologies that enabled and assisted workers also reveals how workers sometimes found themselves with better tools, but also with faster, more complex and often more stressful work environments. The diversity of the American workforce is one of its strengths, providing an opportunity to explore how people of all races and ethnicities identified commonalities and worked to knock down barriers in the professional world. And, finally, the exhibition shows how we identify with work – as individuals and as communities. Whether you live in "Steel Town, USA" or wear a uniform each day, work assigns cultural meanings and puts us and our communities in a larger context.

The Way We Worked, an exhibition created by the National Archives, is part of Museum on Main Street, a collaboration between the Smithsonian Institution and the West Virginia Humanities Council.
Pocahontas County

Historical Society

Pocahontas County

Free Libraries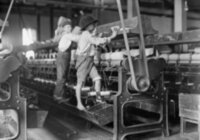 Children Work in Textile Mill 1909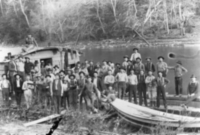 Ark on Greenbrier River 1894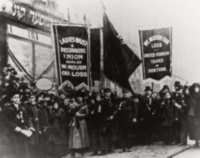 Demonstration Workers